Free Online Veterinary (Vet) and Pet Behavioral or Psychological Advice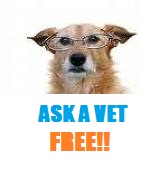 [ad name="Tweet"]
Your Own Vet still offers our Free Vet Advice online, Mondays to Fridays, questions answered once daily during office hours, non emergency queries only.
Our online animal behaviorist is ready and waiting to answer your pet behavioral or psychological queries. We offer a full online behavioral paid consult service. For long term problems such as messing indoors, aggression or any problem involving children and dogs or dogs that bite people, you need to use this service.
For quick behavioral queries, you can still make use of our free behavioral advice service.
Remember that Vet or behavioral advice given online can never replace the hand to coat services of a real vet or animal behaviorist, and Your Own Vet cannot be expected to make a full diagnosis online, and can only work with the information given to us  by you to try and help you with your pet problem.