Behavior – Dominant Behavior in Male dogs
Dear Yourownvet,
 [ad name="Tweet"]
DOMINANT BEHAVIOR IN MALE DOGS
We have 2 dogs, a male English bulldog entire and a spayed English Staffordshire bull terrier bitch. Whenever the bulldog sees another dog smaller than him whether with or without the  female staff being present, he behaves in a very odd manner. He makes strange  noises but not what you would  call aggressive.  He is  obviously very suspicious and mistrustful of the other dog and displays a kind of anxious attitude. He then smells the staffs behind as though he is fearful of her being covered by the other dog..! As I said this can happen with or without the Staffie being there.
We want to show the Bulldog as he a very fine specimen, but are very uncertain of his behaviour at a show. It has been suggested that we need to introduce another dog which is dominant over him. In this case I suppose larger, to get him used to being the underdog, sorry  no pun intended…!  What would your view be?
I should add that they are very close and lie next to each other all the time and hate being separated.
Hope you can help
Regards,
Mike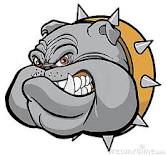 Hi Mike,
Your mail was forwarded to me by the vet, and thank you for contacting us about your problem with your Bulldog. Dominant behavior in male dogs is very common.
You do not say what age the Bulldog is, but you do mention that he is not neutered. This is one of the problem areas.
An un-neutered male will always have that extra rush of testosterone racing through his body and particularly when other dogs come near. I am also not sure if your dog has been to some sort of socialization and training classes where he would have met other dogs, and learnt the correct way to behave around them.
If he has not been socialized, then meeting other dogs as an entire male will cause a higher level of testosterone and stress within him. Even without socialization, he will become more heightened in the presence of other dogs, especially males.
Bulldogs have a very distinctive way of vocalizing, and it can become louder and more intense in the presence of other dogs. It is the excitement, testosterone and stress. Unfortunately, in many cases this is miss-read by the other dogs and can cause a problem and even a fight to occur, especially with two un-neutered males.
He needs to learn how to calm down in the presence of other dogs – however, this is going to be difficult with an entire male.  You also mention that you want to show this dog, but certainly if he shows aggression you will be thrown out of the ring.
I DO NOT AGREE one bit that he needs a larger dog to dominate over him. This would be very dangerous as you will only raise his level of aggression when he tries to defend himself.  Most male, entire Bulldogs will not stand down. I can only see a huge fight and expensive vet bills.
I would also not suggest that you add a third dog to your home – your two are very happy together and bringing in another dog will throw out the balance -if it is a male then the two males would fight, and if it is a female then the two females could fight.
It is very difficult to give more advice as I haven't see your dog and the behaviour. I am not sure where you live, but I suggest that you contact an animal behaviourist who would be able to see the dog and assess this behaviour and give your more guidelines to work on.
Regards,
Kathy Clayton
Chairman of the ABC of SA (Animal Behaviour Consultants of SA)
Accredited Companion Animal Behaviourist &Professional Dog Trainer
www.yourownvet.com
011 783 3042   082 454 1750
kcdogs@global.co.za
www.kcdogschool.co.za
http://www.kcdogs.stemtechbiz.com